Enswitch is a powerful and flexible soft-switch for commercial carrier-grade telephony services. It can scale to tens of thousands of concurrent calls under a single, centrally managed cluster.
Voisonics is a trusted partner and reseller of Enswitch, and has developed its own unique add-ons to complement and enhance this telephony platform.

Enswitch's rich suite of features include a high-availability architecture, integrated billing and invoicing, smartphone apps and modern web interfaces.
It supports a wide variety of business models for resellers and affiliates including:

Multi-tenant hosted PBX
ITSP (Internet Telephony Service Provider) services
VoIP for WiFi providers
Toll-free and number translation services
Calling cards
Call shops
Voisonics can implement all the above business models – and more.
The Enswitch add-ons exclusively available through Voisonics can be seen here, and are invaluable extensions to this robust and flexible platform. When Enswitch is purchased through Voisonics (at no additional cost), customers receive their choice of our add-on products completely free for their first year.
The architecture of Enswitch is designed from the ground-up for reliability and extensibility. Click on the diagrams below for an overview of key components.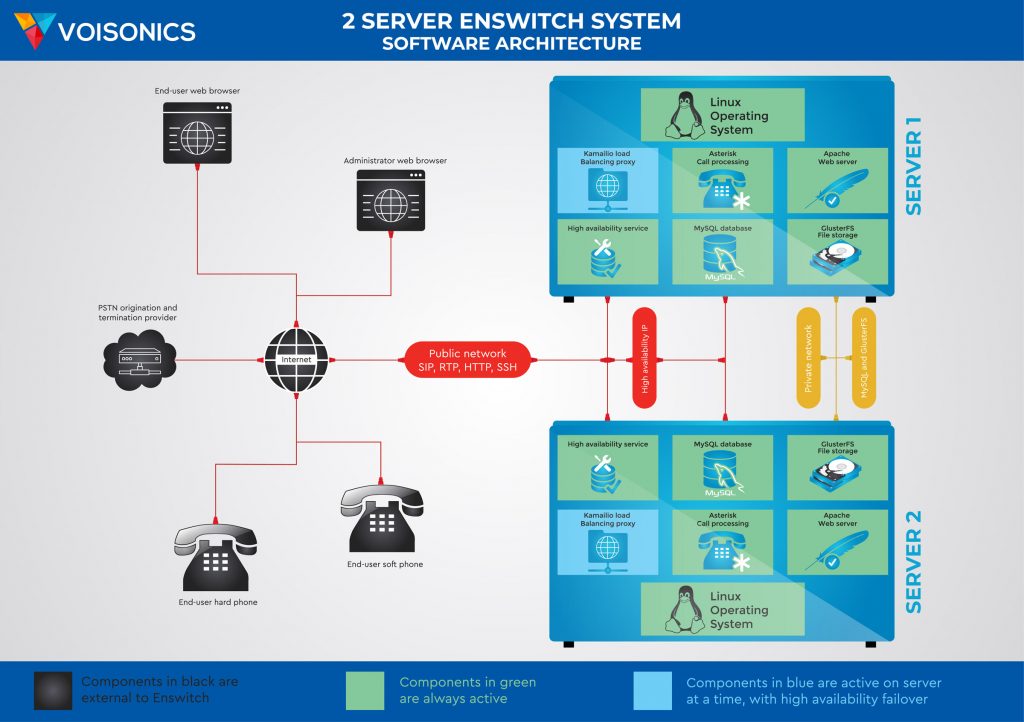 Key Enswitch commercial features:
Fully featured multi-tenant (multi-reseller) PBX.
Responsive and knowledgeable support, 24×7 cover.
All PBX features are included in price.
Quickly evolving development cycle.
Highly scalable, redundant architecture.
Multiple levels of reseller and unlimited customers.
Web portal (see demo) to manage customers.
Customers cannot see others on the system.
Customers can administer their own features.
Owners and resellers can own-brand the service.
Use your own SIP origination and termination provider.
Full control over inbound and outbound call pricing.
Set pricing for accounts, features, markups, taxes, etc.
Set call limits and offer included minute packages.
Integrated billing and invoicing system.
Choice of pre-paid or post-paid accounts.
Integration with major payment service providers.
Configuration options from 30 concurrent calls to 5000 and more.
If you want to know more about how Enswitch can be your telephony system of choice, contact us today.
Top PBX features (technical functionality):
Automated notification of usage and potential concerns.
Busy lamps to provide presence indication.
Calling cards and credit vouchers.
Call parking and easy transfer of calls on hold.
Call spy with PIN protection to listen and/or talk to calls.
Conferencing to connect multiple callers.
Dial by name and auto attendant service.
Hunt groups to call multiple telephones simultaneously.
Inbound and outbound SMS message integration.
IVR menus for caller to choose an option.
Queues to deliver calls in order to agents.
Route calls by calling and/or called number.
SIP trunking as well as regular telephones.
Security protection to block attackers and limit fraud.
Send and receive faxes.
Time of day call routing.
Voicemail with custom-recorded greetings.
Upload your own announcements and music-on-hold.